Here's a preview of the ad that will run in tomorrow's newspaper to promote my trunk show.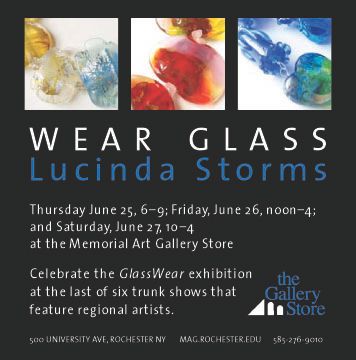 I am beyond excited and nervous.
If you're here in Rochester please stop in and say hello. This weekend is the last weekend for the fantastic
Wear Glass exhibit
at the Memorial Art Gallery - so if you haven't seen it's your last chance. It is also the
'

Art & Treasures' sale
at the museum - a very fancy-schmancy rummage sale to benefit the Art Gallery.
It's going to be my wild weekend. Thursday, Friday and Saturday I have the trunk show, then Sunday is my 50th birthday party. My parents are here from, that place where all my peer's parents now seem to be from, Florida. My sister is coming in for most of the weekend and I hear there are going to be some surprise guests. Eek.