do you ravenously read
orangette
?
i do -
when i saw this recipe for '
winter warmth
' i knew it was inevitable that i was going to bake it.
it's was a chocolate bourbon bundt cake.
(chocolate and bourbon are my two favorite foods)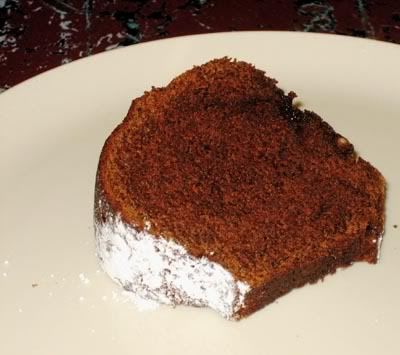 there's a wee bit left and it's about to be my breakfast.
i took the whole cake to a lovely dinner party last night. some of the diners were almost worshipful, almost everyone had two pieces. so, if i took it to a party why is there some at my house this morning? i told the hostess i needed a leftover piece for research - to taste if it was indeed better on the second day as orangette promised. pretty smooth, eh?
want even more chocolaty goodness?
the carolina chocolate drops
-
memphis shakedown
amazing! they are my jug band obsessed, indie record store owning, husband's new favorite band.