i want to make a loopy bracelet with strawberry 'charms.'
with my first batch of strawberries the transparent red didn't fully strike and the berries are mostly a lovely golden yellow. on the second attempt i made this large moldy strawberry - not at all what i had in mind. the red frit decoration turned blackish brackish green. ? why ? and the petroleum green leaves look, well, slimey.
waste not, want not. i made myself a new 'mexican voodoo' pendant with the bead.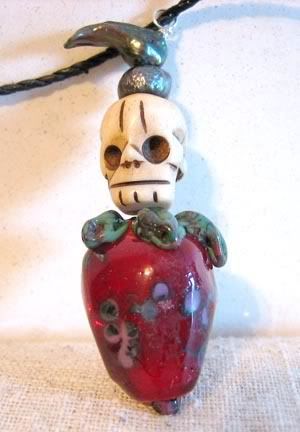 'moldering s-berry' - flameworked glass bead made with dark red, freaky red frit & petroleum green. pendant embellished with garnets & freshwater pearls & a hand carved bone skull
to see more 'mexican voodoo' pendents click here and here.
mexican radio by wall of voodoo.