fleet foxes - one of my favorite albums from this year.
fleet foxes
-
meadowlark
a new necklace
my flame worked glass beads with a hand hammered sterling silver and taupe freshwater pearl chain. there's also a big smoky topaz rondelle, some wee garnets & opals and a lovely cloud shaped white pearl mixed in.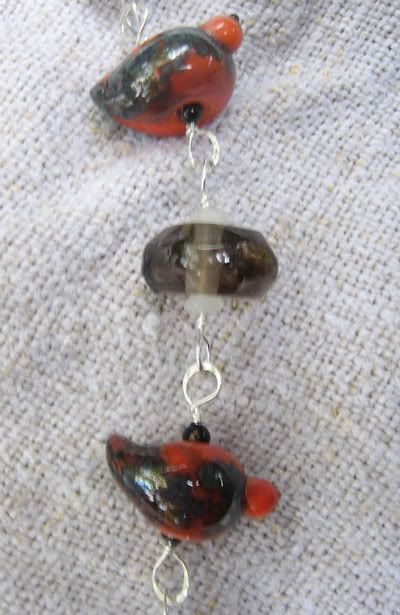 sorry about the blurry pics, the necklace is already gone so there is no chance to re-photograph it. when will i learn to check before shipping off the work?
it's truly snowing here, the sloppy wet flakes are melting as they reach the grass and the sun is shining through a big hole in the heavy clouds.
i changed out the bed linens this morning. at halloween it's time to take off the linen duvet cover and get ready to snuggle under the heavy velvet one. the satin and cotton bed pillows went in the box and the raggedy tapestry and victorian velvet ones came out. the big long brown faux fur shams are back, much to the dogs napping delight. yes, i let the poodles crash on the bed, it's a battle i cannot win.