I am deep in the throes of a bead crush.
These double sided raku wings came from Dorcas at
Wondrous Strange
.
Yes, again with the ceramic beads from her, like I said, I am mad for them.
I want to make a charm bracelet with the wings and have started to make some beads to mimic the rich lustrous. metallic glaze her beads have.
These little glass pods have a base of topaz (at the bottom) and pale aqua (top end). Over the base I added thick bands of Double Helix Aurae and Gaia. Then I raked the beads into pod shapes and heavily reduced the silver glass. Viola! It's a pretty good glass take on raku pottery.
After the pods I also made a few rounds, always useful when making a bracelet.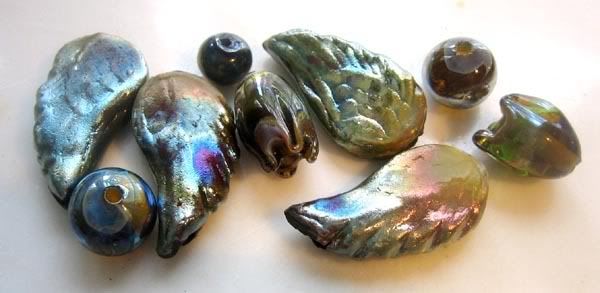 I think some dark oil-slick peacock baroque pearls and maybe some labradorite and I have the makings of a real piece of treasure.