a new bead, which has sort of an underwater vibe.
as you can see am having some issues with tiny bubbles and scumming, it's making me nuts.
the bead has a core of aventurine chunks wrapped in a transparent light straw yellow, the side ruffles are clear turquoise and grass green.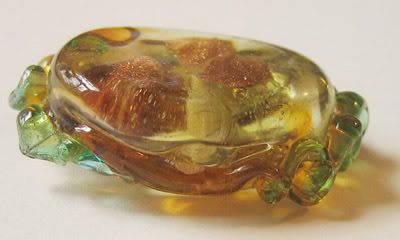 maybe i am melting it too hot. the rods are clean so it's not that...
just another technical mystery to figure out and then overcome.
this is why i love painting - you never get tripped up by some lame technical bunk.