Still working away on my set of
Gauguin inspired beads
.
This photo shows the evolution of the blue beads I have been making for the Gauguin necklace.
1. The top two are simply intense blue with a pressed dots of white.
2. For my second attempt, the middle ones, I added a stripey blend of blue glasses.
3. Lastly, the final version, the two beads on the bottom were decorated with my hand pulled murrini.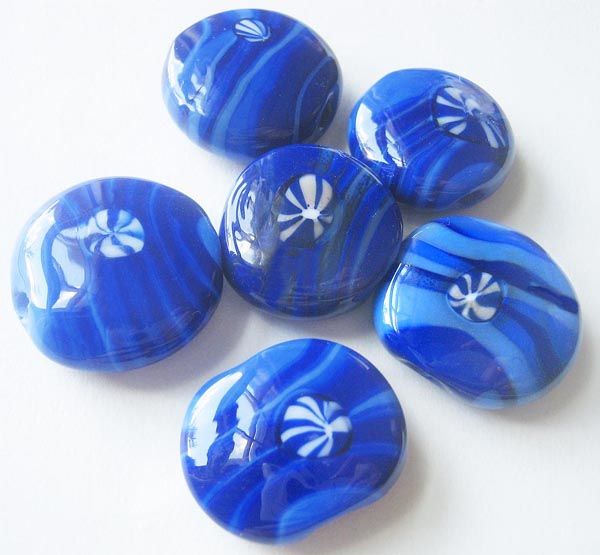 Ahhh, now they're right, eh?
The base colors of glass I used are Messy Cornflower, Messy French Blue and pastel lapis cobalt.
I made the blue and white floral murrini.
These fun little beads are some of my first attempts and making and using my own murrini.
This could become an addiction. I wanted them to echo the indigo decoration on the dress in the Gauguin painting.
Here's a close-up of a few of the left over murrini.
I loved making the cane to cut up into the murrine. Ages ago I took a class that included a small lesson on making murrini and recently I bought a Japanese book to help me learn, and refine, the techniques.
There are going to be a lot more murrini - I feel a glass obsession creeping up on me.