summer's ending. my sleeves are getting longer and i thought about digging out a sweater this morning. obstinately i decided it would be better to be chilly than admit that autumn is creeping up on us. the leaves are starting to yellow and crinkle around the edges, the ferns are browning out and giving up. seed pods are popping open and the apples are coming on.
and i am still making glass sticks - i now have 9 that i am happy with. lots of these little suckers break coming off the mandrels.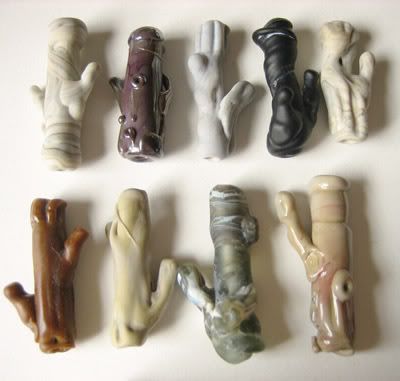 the glass colors are:
top row - fossil, light silver plum, gray, black and fossil again.
bottom row - special brown, avocado, dark gray transparent w/white and ask silver cinnamon.
sooner of later these will be mixed with big white pearls to become a necklace.