queen anne's lace is a delightful flower - i transplanted loads of them into my garden.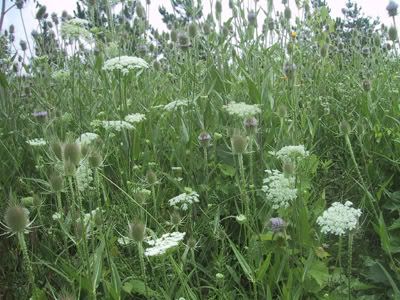 don't call them weeds around me.
a roadside field of thistles and queen anne's lace.
more new earrings.
these have inch long handmade 'twisted' tube beads that elizabeth (of morefire glass) made in one of her free monday night demo's. i am going to give it a try, but it was kind of daunting. you make a big hollow tube on the end of a fat boro rod, then seal another fat boro rod to the other end, heat the mess and pull like a giant hollow twistie. cool, knock it off the boro and clip into individual tube beads - very cool.
the earrings also have tumbled onyx hearts that look like worn lake rocks, freshwater pearls and sterling silver findings.