i was a sculpey virgin until today. my friend, the doc, took me under her wing and showed me the way. armed with only a wooden toothpick and a razor blade i made a mess of beads.

first a familiar form - black birds.
by the way, crows are much, much easier to make with polymer clay than glass.
then a stick. (q: what's brown and sticky? a: a stick)
a fresh seed pod from the doc's hollyhock garden.
and a pair of sculpey pods inspired by it.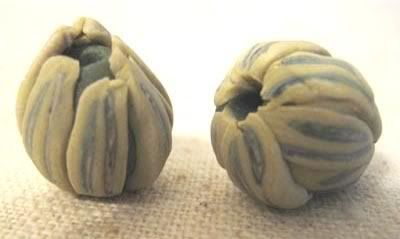 i never had any particular desire to try polymer clay until i stumbled onto the blog called humble beads by heather powers. if you have never seen her beads - go there now. they are just exquisite.