a little bird done with encased "pandora" glass made by double helix.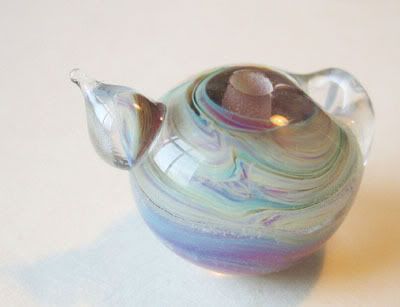 the bead is just a wee thing but i almost got all the elusive pandora colors out of it. double helix is a very exotic american made glass that is full of metals. this mysterious glass does all kinds of enigmatic stuff in the flame - like turn a rainbow of pastel colors.
i braved the tundra last night and went to open torch. mostly i worked on sets - i have got to get some big necklaces done. i know i should stop grousing about the snow and cold, after all this is upstate new york and we all know how to handle winter. but, having said that, this has been an especially grim winter. the snow and cold has been relentless. what can you do? just have some more oatmeal for breakfast before bundling up to go dig out (again).
the new colors of glass that i ordered from moretti and more are very luscious. i should have some nice sets of stuff to show in the next couple blog posts. i can't wait to pick up my beads today - i am anxious to see how one particular set of large lentils turned out - they were inspired by dirty snow drifts.
huh
?