omg, kiki caught a mouse.
she ate the head off and brought me rest - still warm.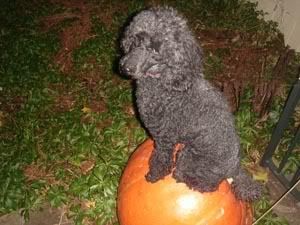 my little pumpkin. i never knew a dog could catch a mouse.
my first attempt at needle felting. it's fun - kinda like knitting, more like painting. the knitting guild had a mini workshop on it monday night. i have a little pile of poodle fur (from combing their poofey ears) that i am going to needle felt onto something, how queer is that?
not as queer as this...
topo gigio - el rock del quesito (rockin the little cheese)