Almost everything I make is inspired by nature.
I never met a seed pod that I did not want to recreate using either paint, pencil or glass.
So, when I saw the cover of this coffee table book called "Pollen" I was sunk. I trolled around ebay for weeks until a reasonably priced copy came up for sale and I scored it. Scored is the perfect word to describe my shopping behavior with this book. I was consumed with want in the days that preceeded it's purchase.
When it finally arrived in the mail I was not disappointed.
Page after big glossy page of spores that look like beads.
After absorbing it for a day or two I started to sketch out some bead ideas.
You know, you really should keep a bead sketchbook.
Keeping track of your ideas, color recipes, triumphs and failures is very useful.
My first pollen beads.
They're a completely new shape for me.
They start with a round bead. By spot heating and raking both sides of the round base bead they are pulled into an elongated 'pollen grain' shape.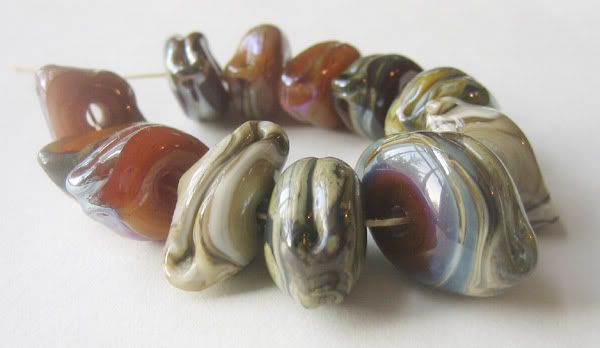 The base glasses were Opalino Carnelian, Light Gray and Cim's Plum. Before starting to shape each bead I added a band of Double Helix Aurae around their middles. They were reduced after shaping.
I am so pleased with these beads. The plan is to make several dozen more and then string them into a strand - sort of like pearls - but pollen.