i re-worked a dozens of 'mexican voodoo' pendants.
they're more fun when they have little fetish objects dangling off their bottoms, so i took all the old ones apart and gave them charms.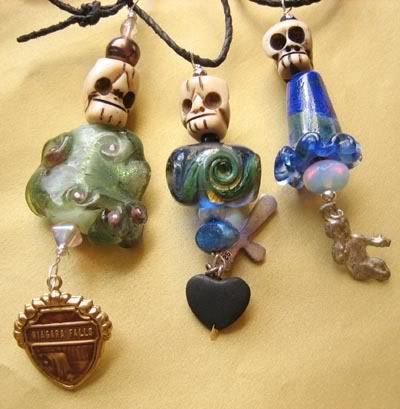 the guy on the above left has an old brass charm from niagara falls.
the little dead guy on below, on the right, with the gun is my red white & blue homage to the nra.
finding enough charms was a summer long garage sale & flea market project. no single earring or crappy charm bracelet was safe, i sifted thru every box of broken jewelry. looking for religious medals, subway tokens, cracker jax prizes and any kind of shiny flotsam.
one thing i learned looking at all that unwanted jewelry is that the 80's were an awesome time for earrings - bigger was better and crazy was best.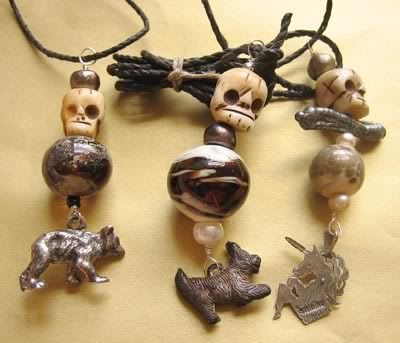 my daughter does not have pierced ears but she does have her septum pierced - oh well. she loves giant clip on 80's earring monstrosities. some day i should do a post documenting her best pairs. no earring is too big, or too weird, for miss sophmore art student.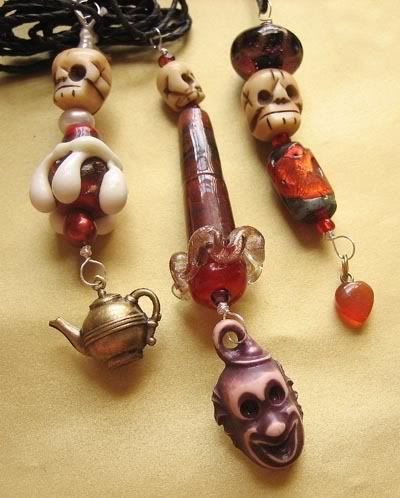 that clown face is so perfectly creepy.