i am not getting anything done -
only some planning for paintings and beads.
i don't even have my bead sketchbooks with me.
just noodling on scraps of paper and stray notepads.
a new bead shape - a kind of pod with a twisted top knot.
i will try starting with a round bead (#1)
then add ridges (lobes) of a different color glass (#2)
and finally spot heating the top and giving a little twist pulling up slightly (#3)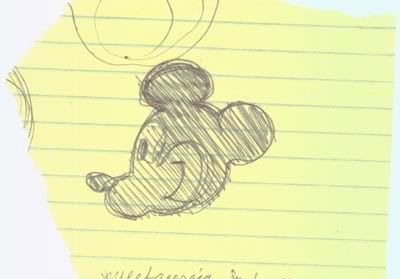 a while ago i made this completely weird necklace with the theme of mickey and minnie mouse.
it's not really working yet - i may go all out and try making some weird sculpey mickie heads for it.
i miss dreamland faces - they used to live here and play every saturday morning at java's public market cafe. sigh.
dreamland faces