i have a bunch of blogs that i check in on every few days.
one of my favorites is
art bead scene
.
as rolling stone is to music, art bead scene is to, well, art beads.
they have regular columns, interviews with star bead makers, they give great sources for materials and they also host a monthly jewelry challenge.
here's how it works, every month they come up with a theme and you make something lovely inspired by the theme. then just post a nice pic of your piece on their flickr site and check out all the other lovely things other readers have made.
at the end of the month someone who entered gets a randomly selected juicy prize of gorgeous finding and/or beads. guess what?
i won the august challenge
. yesss, sweet. the pink fairy stone necklace got choosen outta the hat and i have some loot coming in the mail from art bead scene.
so, don't dawdle. check out this month's theme and get started.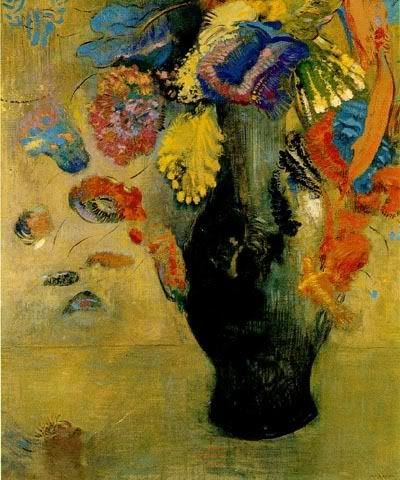 re-discovering the flower paintings of odilion redon.