yesterday, while lunching with a gal pal she mentioned how much she loves looking at my bead sketchbooks.
i guess it is kind of like rummaging about in someone else's underware drawer.
since i don't have any new beads to show right now, i scanned some of my favorite pages from the first book.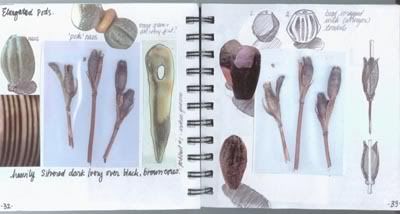 some of the beads on the page above are by
naos
. they are credited by the bead. she is amazing, a lesson in elegant & natural simplicity.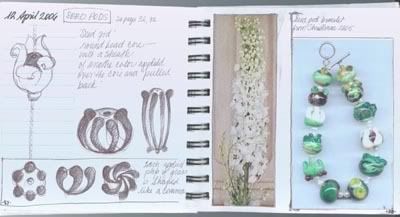 i will say it again, everyone should keep a sketchbook. with your book you have a record of your beads, glass discoveries, wayward ideas and inspirations. who could remember all of that without a little help?
mine is a 6" x 6" spiral bound classic sketchbook. it has black board covers and is available at any decent art supply store for around 7 dollars. this size fits nicely into my glass tackle box and with the spiral binding you can fold it so only one page is exposed to flying bits of hot glass while you are torching. get yourself some archival white glue for pasting stuff into it. and, i simply could not get live without nice soft, saturated colored pencils. go ahead and treat yourself to a fancy tin box of prismacolor pencils since you're already at the art store.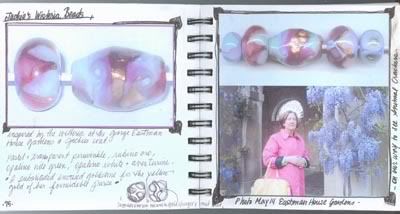 and one more, for luck.
if you would like to get a closer look and see
larger versions
of these pages they can be seen in my 'gallery' at beadartists.org. (just click on the thumbnails)