it's the end of june - time for local strawberries.
hand sculpted strawberries made with dark red opaque glass rolled in transparent light red frit.
the leaves are transparent grass green and pea green frit. i made a small ball on the end of the grass green rod and then rolled it sparingly in the pea green frit, reheated it and then pulled the 2 color ball of molten glass in to a stringer. i used that custom stringer to make the strawberry leaves.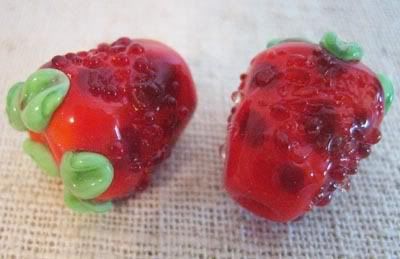 this pair of strawberries was made with opaque red glass and dots of dark red glass and rolled in transparent red frit.
these leaves are nile green and transparent grass green. i put dots of transparent green on the end of a ball of nile green and then pulled the stringer for these leaves.
for graduation miss mango wore her lucky ruby slippers. they had been retired due to holes in the soles - but some cardboard and duct tape made them ready for one last special night.
ask me how proud i am of my graduate.