a new necklace.
it's like a giant charm bracelet.
i started with a very 80's new wave estate sale necklace - think gina in miami vice. it was pretty bombastic and crazy, but i snatched it up because it was made of round link iron chain. i took all the original crap off the necklace and put it away to be used on something else. then the fun began.
every link has an individual bead 'charm' attached to it.
some of the charms are made with my glass beads...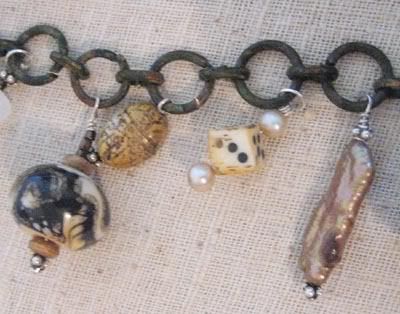 others are made with semi-precious stones, bone figures, lots and lots of pearls...
... salvaged bits of other old jewely, ebony and tribal glass beads. all the charms are on sterling silver headpins with sterling silver spacers.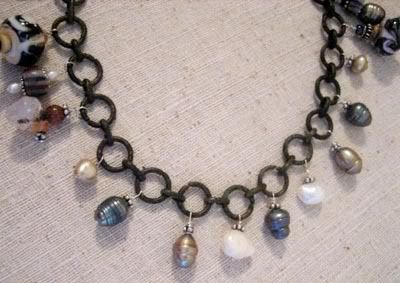 even the part of the necklace which sits on the back of your neck has charms. that way if you wear your hair up, or have short hair, it all looks good.