armed with a new booklet of fine silver foil, i made some beads with encased metal inside.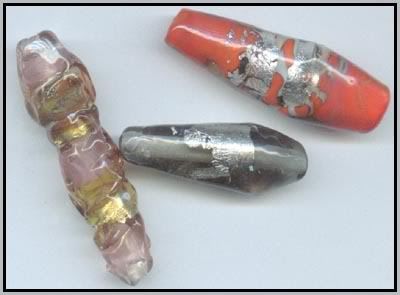 left to right:
'fairy stone' transparent light pink core, foil & transparent pink encasing
'winter sky' light gray core, foil & transparent steel gray encasing
& 'radioactive' carrot red core, copper green & red twistie, foil & clear encasing
the trick is to not burn off the foil.
just roll the foil onto the 'tacky hot' bead.
then quickly encase the foil without ever letting the flame touch, or overheat, the silver -
keep the bead beneath the flame and lay the molten glass onto the bead's surface from above.
*

note that the silver 'turned' to gold in the pink bead - a really nice effect. why? i am guessing because there is gold in the pink glass
*
to see close ups of these beads, please visit their page at the
bead artists gallery
.