here are the first pendants made from the wonky floral beads, the ones i called seuss-y pods.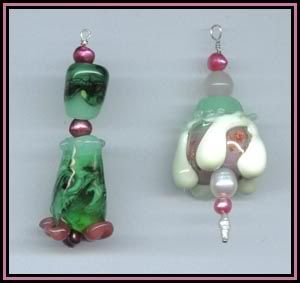 the one on the left is 2 1/4" long and has evil dark pink freshwater pearls that perfectly match the opalino carnelian glass petals on the long pod.
the one on the right has a variety of fresh water pearls and a rose quartz bead mixed in. it's hard to see, but the best part of this bead is in the center of the blossom. it's light pink alabastro glass rolled in aventurine (goldstone) frit and encased in clear glass for lots of depth and sparkle.
i've got more odd flowers soaking, just waiting to be reamed. and best of all, more torch time set aside tomorrow evening at More Fire Glass.