a quick pic of more floral pods for earrings and pendants - this was a less than stellar batch that i made a few days ago.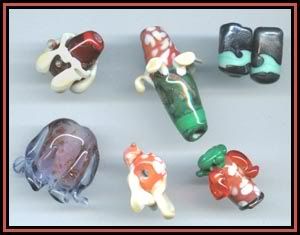 besides pods, a pair of barrel beads for earrings made with dark silver plum and opalino nile green - a great combination.
& a coral and ivory frit bird bead. (center bottom)
the pod in the lower left corner is my favorite in the batch. it's opalino pink rolled in goldstone frit and then i encased it with petals of transparent pale periwinkle.
the stuff i just picked up, out of the annealer, from yesterday's torch session is making me wiggle - apparently i do my best work when it's 90+ degrees in the studio. check back, i have something new and wonderful to post as soon as i get them cleaned.