double dated the other night with the j's. we walked the gardens at the george eastman house while waiting for a screening of the marx brother's "animal crackers."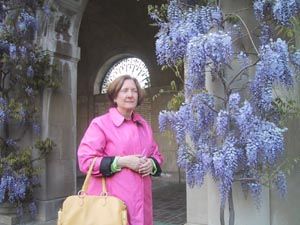 jackie loves wisteria, i love her spring coat with the wisteria.

with this snapshot as my inspiration, i selected my colors. now you know how i came up with the color combination of pastel & transparent periwinkle, rubino oro, opalino nile green, opalino white & aventurine (i substituted encased goldstone for the yellow gold of her formidable handbag). they are quite large, the center bicone is just over an inch long.