finally got around to cleaning out the newest batch forsythia beads.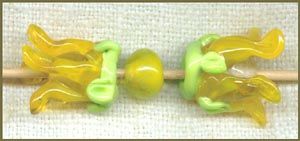 much, much better with the new non-serrated tweezers.
the leaf spacers came after watching Mahine (of More Fire) give a demo on shaping flower petals. they are basically pulled flower petals made from a droplet of glass flattened, and pulled with tweezers, off the bottom of a very basic bead.
the spacer beads are just yellow encased with clear and rolled in apple green frit.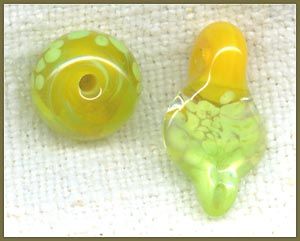 i don't know what's up with me and the color spring green? yesterday was the annual barn sale for Flax clothing in Ithaca. as i do every year i drove back to my hometown and bought a years worth of clothing - it's all i wear except for black jeans. i did not buy one piece of black - and somehow came home with three pairs, all different shades, of spring green flood pants. the trees along the lake were all budding out and i think i was so in love with that color on the drive down that i just bought everything i saw in that color range. i also bought some thing the color of dirty orange sherbet - that's an all time first, we'll see if i ever wear it...