one of my favorite shapes to make is a
twisted heart
.
the first one was an accident, i merged two spacers i was trying to make on the same mandrel. never one to admit defeat at the flame i smudged on some more glass and gave the thing a little twist at the end...
and viola -
my twisted heart
.
here's a somewhat pathetic how-to from my bead sketchbook.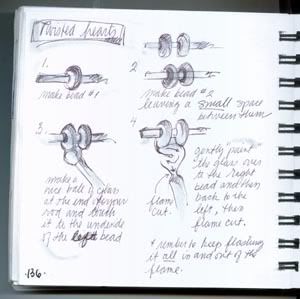 1.
make bead #1
2.
make bead # 2, leaving a small space between them.
3.
make a nice ball of glass at the end of your rod and touch it to the far left underside of the left bead.
4.
gently paint the glass over to the far right of the right bead, and then back to the left bead and down to a point, then flame cut the rod from the bead.
*remember to keep flashing it all in and out of the flame so it doesn't crack*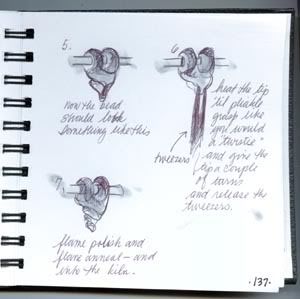 5.
now the bead should look something like a drippy, lumpen heart.
6.
heat the bottom half of the heart until pliable. grasp the tip of the heart with your tweezers, as if you were going to make a twistie, and give the end a couple of turns and release your tweezers.
7.
flame polish and flame anneal, then into the kiln.
examples: