it was a long and blissful session with the torch...
every mandrel i had dipped and dried got used- always the sign of a good go'round with the flame.
all the new forsythia beads are soaking and waiting to be reamed.
they are much more defined than the first set, new tweezers did the trick, sorry no new photos yet.
in the meantime, a snack!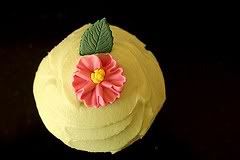 this image come from a favorite blog of mine called
"All Cupcakes All the Time."
if you look in my side bar you will find a link to them in my linky-doos list.
aren't the colors great!
a sweet combo for a set of summer beads.